We are experiencing incompatibility issues using LOIS with Internet Explorer 9
We are working to correct the problem.
Download ZIP file sets for the State Plan Zones and the Point Type KMZ files
---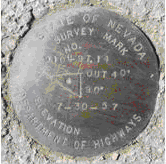 Welcome to the Nevada DOT Location Information System (LOIS) Web Application. This page will help you find useful survey monument information throughout Nevada. To get started select Query By Map or Query By Attributes. For more details about the capabilities offered by LOIS please view the Help documentation.
This geodetic data was developed for use by the Nevada Department of Transportation (NDOT) under controlled conditions of software maintenance, input quality, processing configurations and output data utilization. Any use of this data by other than NDOT would be under conditions not necessarily subject to such controls. Therefore, NDOT makes no warranties, expressed or implied, concerning the accuracy, completeness, reliability, or suitability for any particular purpose of the data furnished.
If you are unable to access or utilize this application please call NDOT Geodesy Section at (775) 888-7255.
This application best viewed in Internet Explorer version 5.5 or greater.